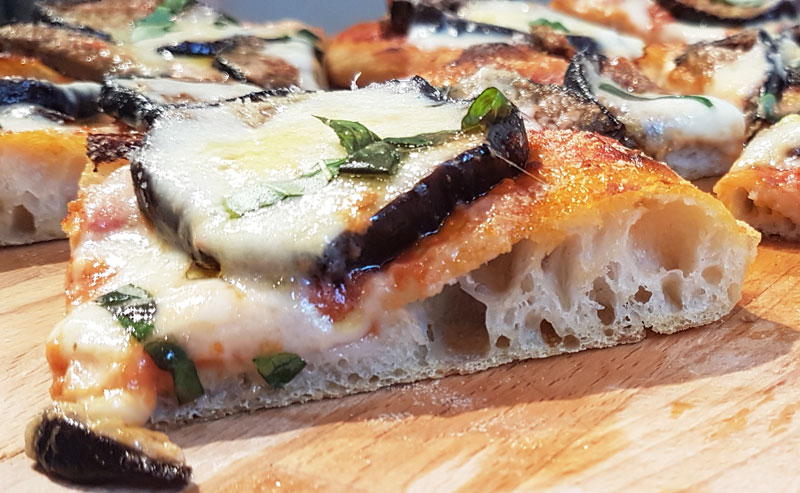 Eggplant Parmigiana Pizza
Eggplant Parmigiana Pizza
Let's start by cleaning the eggplants, removing the green thorny part and cutting them into round slices about an inch thick, like this.
Now take our baking tray, sprinkle it with olive oil, and lay the aubergines, greasing the underside well.
We add olive oil even up our eggplants.
Bake them at about 180°Celsius / 356° Fahrenheit for about 10 minutes.
After 10 minutes, we can remove and turn them upside down.
We repeat this process at least 3 or 4 times, until the aubergines are well baked.
In the last step,if you want aubergines dry well let the humidity come out, open the oven just a little bit.
Now let them cool on a plate.
Here they are ready to garnish our pizza. Let's dip them in the tomato sauce, then lay on the pizza until cover all the surface and finish with the mozzarella slices.
We bake for about 3/4 minutes, until the mozzarella is melted.
Now Sprinkle all the pizza with grated Parmesan.
Olive oil …. and fresh basil, which you can chop up it with scissors, so fast and simple. Eggplant Parmigiana Pizza is ready!
This is A perfect topping to amaze your guests specially vegetarians!!
CHECK IT IN THE VIDEO BELOW
Pizza Cooking Class Calendar, to have more info and personalized Price and Deal contact me at +393382048378 or by email vittobali@gmail.com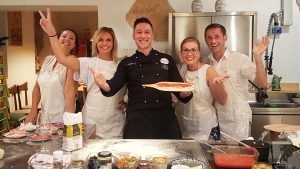 Pasta Cooking Class Calendar, to have more info and personalized Price and Deal contact me at +393382048378 or by email vittobali@gmail.com